Ontario Provincial Police
O.P.P. members are responsible for traffic safety on Ontario's roadways, waterways and trails, policing more than 922,752 square kilometres of land and 110,398 square kilometres of waterways, including the Township of North Dundas.
Access the O.P.P.'s website for information on these services.
SDG Police Services Board - False Alarm Program
You are reminded that the United Counties for Stormont, Dundas & Glengarry Police Services Board have initiated an alarm registration program.
Access the SDG Police Services Board's website for further information regarding this program. The website contains Alarm User Registration Forms and the Alarm By-Law. All alarm users must register or be subject to a $200.00 fine. For more information, please contact Steve Perkins, Alarm Co-ordinator United Counties of SD&G. at 613-534-2223, ext. 2102.
Image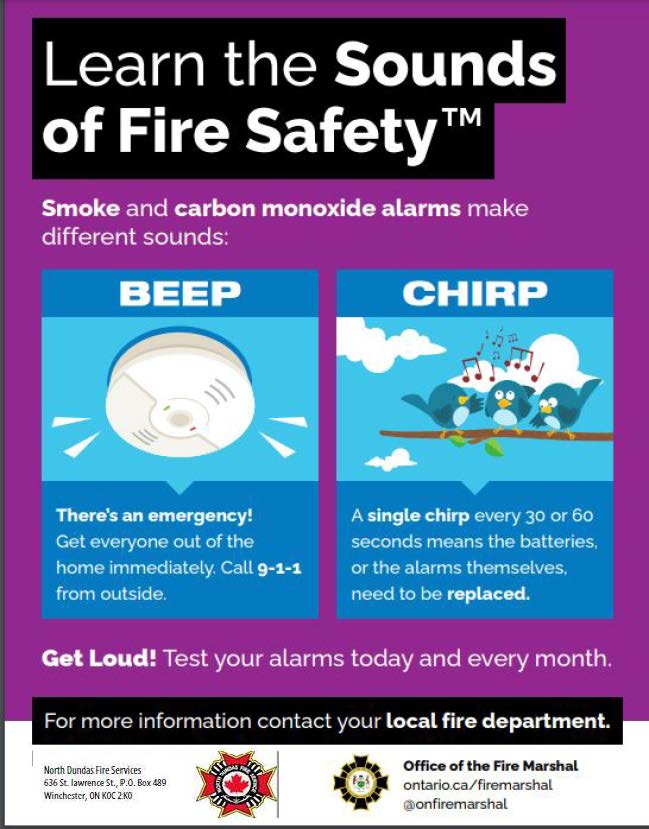 Learn the Sounds of Fire Safety. Smoke and carbon monoxide alarms make different sounds. Test your alarms today and every month. For more information contact the North Dundas Fire Services.