The Chesterville and District Historical Society was founded in 1984. North Dundas' agricultural heritage is expressed through its farms and in its historic commercial centres that include Winchester, Chesterville, Morewood, South Mountain, Mountain and Inkerman. This visual and economic heritage of North Dundas reveals to the resident and visitor alike the history of a once-bustling self-sufficient area of Dundas County.
The Heritage Centre
Image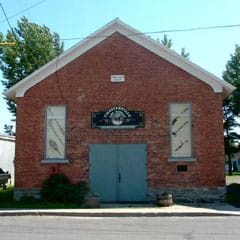 Located at 14 Victoria Street, the Centre was built in 1867 and served as the first formal town hall. Since then it has served at various times as a fire hall, a court house, a jail, a church and a movie theatre. With the help of the Chesterville Rotary club the C&DHS was founded in 1984.  The building now houses a sizeable collection of artifacts of interest to both amateur and professional historians.  As the facility does not have a curator or any full-time staff, it is classed as a Heritage Centre instead of a museum. The facility is owned by the Township of North Dundas and operated by volunteer members of the Chesterville and District Historical Society, in affiliation with the Ontario Historical Society. [The Ontario Historical Society is a non-profit corporation and registered charity that encourages and assists museums, historical societies, Municipal Heritage Committees and other cultural groups to research, preserve and interpret the artifacts, architecture, archaeological and archival resources of their communities.]
Housed within the Heritage Centre are numerous collections of artifacts donated by area citizens. On display are antique tools, woodworking and farm; domestic artifacts, two signature quilts and period costumes just to name a few items.
Exhibits include:
Allison/Titanic display;
Dr. Justus medical exhibit;
Barbara Ann Scott exhibit; and
Local watchmaker PJ Gilroy exhibit.
Research materials include:
Restored Five Counties map 1862
Dutch Immigration oral history tapes and transcripts
Historic buildings inventory
Historic walking tour guide of south bank Chesterville
Dundas Veterans biographies WWI, WWII
Local family genealogical research books and resource files
Cemetery listings, books of local cemeteries, copies are also available for purchase
Chesterville Record issues on microfilm 1898 – 1978, 1977 – bound copies
Local school histories – year books
Meetings are held on the third Tuesday of the month at 7:30pm at the Heritage Centre, 14 Victoria Street in the Village of Chesterville.  Everyone is welcome.  Membership is not a requirement to attend an evening.  We invite you and your family to come to our regular meetings, attend any of our special events, or speaker nights.
Contact Information: