Regular Public Skating Times
| | | |
| --- | --- | --- |
| Day | Sam Ault Arena | Chesterville Arena |
| Monday | 4:00 – 5:00pm | 4:00 – 5:00pm |
| Tuesday | N/A | 4:00 – 5:00pm |
| Wednesday | 4:00 – 5:00pm | 4:00 – 5:00pm |
| Thursday | 11:30am – 1:00pm | 11:30am – 1:00pm |
| Friday | 4:00 – 5:00pm | 4:00 – 5:00pm |
| Saturday | 6:00 – 7:00pm | N/A |
| Sunday | 12:30 – 1:30pm | 4:00 – 5:00pm |
Family and Caregiver Skating
| | | |
| --- | --- | --- |
| Day | Sam Ault Arena | Chesterville Arena |
| Wednesdays  | 10:00 – 11:30am | N/A |
| Thursdays  | N/A | 10:00 – 11:30am |
PD Day Public Skating
| | | |
| --- | --- | --- |
| Date | Times | Arena |
| November 26, 2021 | 2:00 - 5:00pm | Both Arenas |
Christmas Break Public Skating
| | | |
| --- | --- | --- |
| Date | Sam Ault Arena | Chesterville Arena |
| December 20, 2021 | 2:00 - 5:00pm | 2:00 - 5:00pm |
| December 21, 2021 | N/A | 2:00 - 5:00pm |
| December 22, 2021 | 2:00 - 5:00pm | 2:00 - 5:00pm |
| December 23, 2021 | 11:30 - 1:00pm | 11:30 - 1:00pm |
| December 27, 2021 | 2:00 - 5:00pm | 2:00 - 5:00pm |
| December 28, 2021 | N/A | 2:00 - 5:00pm |
| December 29, 2021 | 2:00 - 5:00pm | 2:00 - 5:00pm |
| December 30, 2021 | 11:30 - 1:00pm | 11:30 - 1:00pm |
March Break Public Skating
| | | |
| --- | --- | --- |
|   Date | Sam Ault Arena | Chesterville Arena |
| March 14, 2022 | 2:00 - 5:00pm | 2:00 - 5:00pm |
| March 15, 2022 | N/A | 2:00 - 5:00pm |
| March 16, 2022 | 2:00 - 5:00pm | 2:00 - 5:00pm |
| March 17, 2021 | 11:30am - 1:00pm | 11:30am - 1:00pm |
| March 18, 2022 | 2:00 - 5:00pm | 2:00 - 5:00pm |
Public Skating Cancellation Dates
| | |
| --- | --- |
| Cancellation Date | Arena |
| November 28, 2021 | Chesterville Arena |
| December 24 - 26, 2021 | Both Arenas |
| December 31, 2021 | Both Arenas |
| January 1, 2022 | Both Arenas |
| January 16, 2022 | Chesterville Arena |
| February 5, 2022 | Sam Ault Arena |
| February 13, 2022 | Chesterville Arena |
| February 21, 2022 | Both Arenas |
Image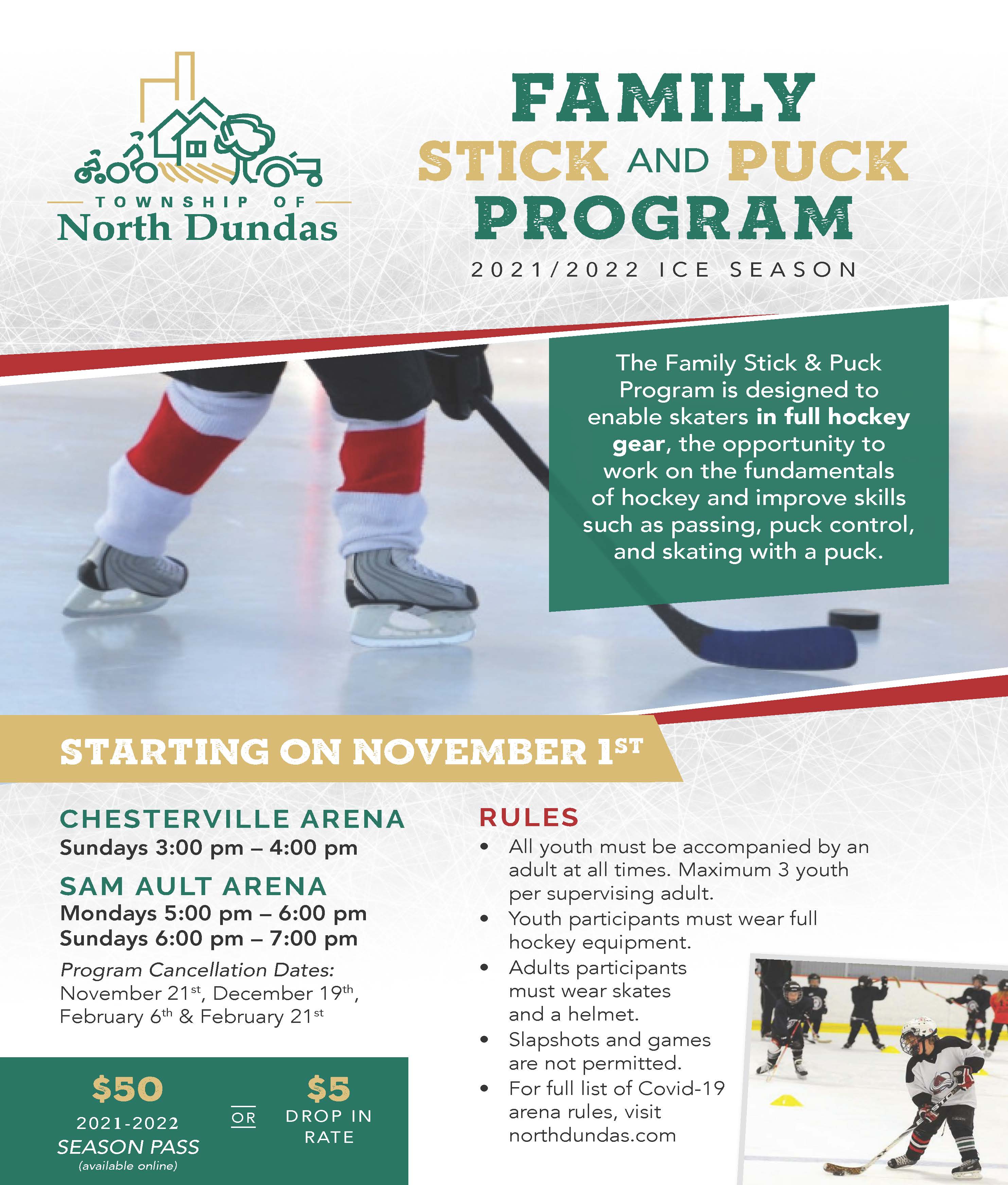 Family Stick and Puck Program starts November 1st. The program is designed to enable skaters in full hockey hear, the opportunity to work on the fundamentals of hockey and improve skills. Chesterville Arena - Sundays 3:00-4:00pm. Sam Ault Arena - Mondays 5:00 - 6:00pm & Sundays 6:00-7:00pm. $50 for a 2021/2022 Season Pass or a $5 Drop in Rate.
Covid-19 Arena Rules
All participants & spectators must complete a COVID-19 self-assessment using the criteria that is posted at the main entrance of the facility, prior to walking into facility. Patrons are only permitted to enter facility if they answer "NO" to all questions on the self-assessment.
All participants & spectators must provide proof of double vaccination at main entrance of Arena, unless under the age of 12 years old or proof of exception.
Masks are mandatory at all times in all facility areas except on the ice surface. Masks can be removed in the change room before skaters walking out onto the ice surface.
Everyone must sanitize their hands upon entering the facility.
Everyone must follow traffic flow stickers/signage at all times. Enter through the main entrance and exit through the side entrance.
Physical distancing must be maintained at all times, unless on the ice surface.
Spectators can only enter the facility right as ice time starts (unless assisting child with equipment) and must walk directly through the lobby, into the stands. No spectators are permitted to watch from the lobby. Spectators must leave the facility immediately upon end of their ice time.
Skaters are permitted to enter the facility 30 minutes prior to their ice time and are encouraged to show up to the facility dressed to go on the ice. Each user group is only provided access to two change rooms per ice time.
Skaters must exit the facility within 30 minutes or less, following the end of their ice time.
Skaters must only use their own water bottle(s). No sharing or team water.
No spitting or no blowing nose freely or releasing any bodily fluid anywhere in the facility.
Ensure that all players and spectators place all garbage, tape, and disposable bottles in the garbage containers provided.